Winter 2018 we put on our cross-country skis and went to a cabin in the woods. Our boss told us not to come back until we had come up with an idea for our stand for NDC Oslo ;) After a lot of discussion, arguing and beer we came up with some ideas. They involved robot cars, chatbots, face recognition and concepts like "something retro" and "combine something practical with something digital". With serious doubts our boss let us go home.

But the idea had been planted and after a while the creative Christian Brevik came up with something.
Concept
Christian wanted to make Elastomania, the platform motorbike video game released in 2000, the center of attention. That's pretty retro. Then he wanted to allow contestants to draw their own Elastomania level and play through it in the game. This would include the concept of "combining something practical with something digital". Just driving through a self-made level wouldn't be very competitive or that fun. So, we wanted to define where the motorbike would start, some checkpoints to drive through and where to finish.
Level created by us:


Level with track drawn by the contestant:


Implementation
We got excited about the idea. Mainly because a lot of us had played Elastomania in the past. Christian took lead and made the initial prototype. We worked on the project at an internal meetup and got several Novanetters involved. We realized the solution would have to include several components.
We ended up with an iPad app for contestants to draw their own level. The drawing was sent to a Windows box where we had to do several steps before the level was ready for play in Elastomania. After playing a level we saved the replay and posted the result to a Highscore web page, showing the fastest runs.
You can read all about it in part 2 of this blog. Coming out later.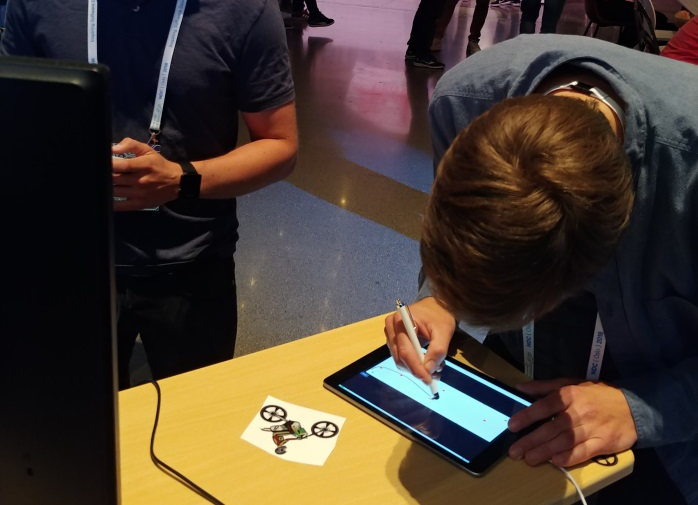 Result
Our stand was a success! At least we think so. Statements like "Wow! Elastomania!" and "This is the best competition on NDC" shows that at least some people liked it.
The solution ran smoothly, although the folder scanner crashed a couple of times. Not bad, considering that we did the last check in the night before the conference. We had a bat-file to restart it, so it wasn't a problem.
We had a lot of contestants and some came by several times to improve their scores. We had a new level for each day with different challenges. And of course, all contestants got a Elastomania sticker!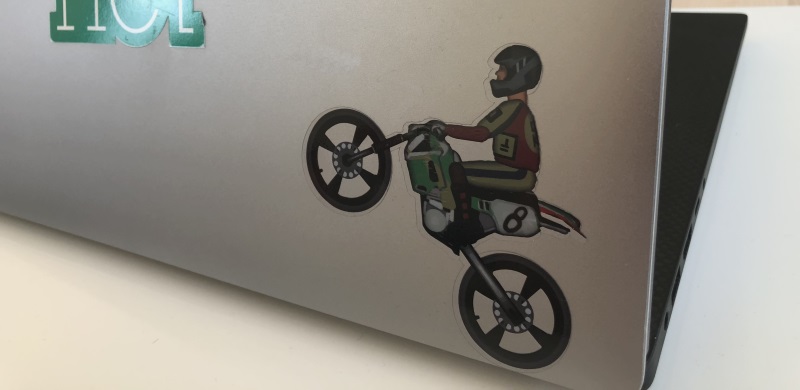 Here are the best runs for the 3 days at NDC:
Day 1
Name: The Jump

Øivind Jorfald (12,976)
Petter Abrahamsen (12,983)
Mats Hoel (13,073)
Day 2
Name: Apple Factory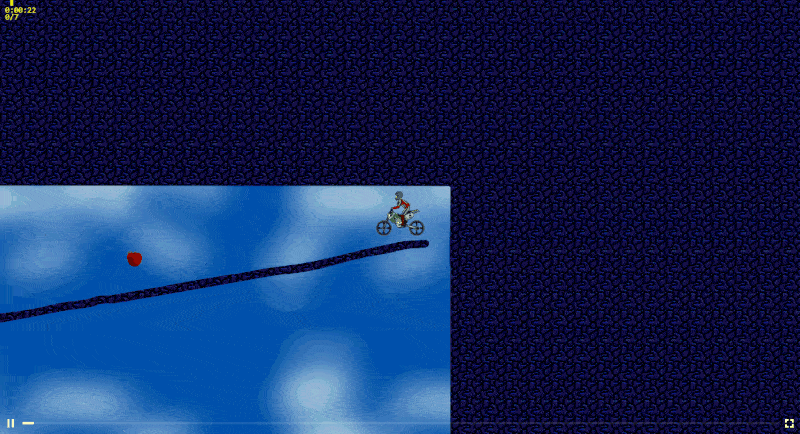 Daniel Rustad Johansen (14,639)
Petter Abrahamsen (14,656)
Kristian Ravndal (15,856)
Day 3
Name: Falling down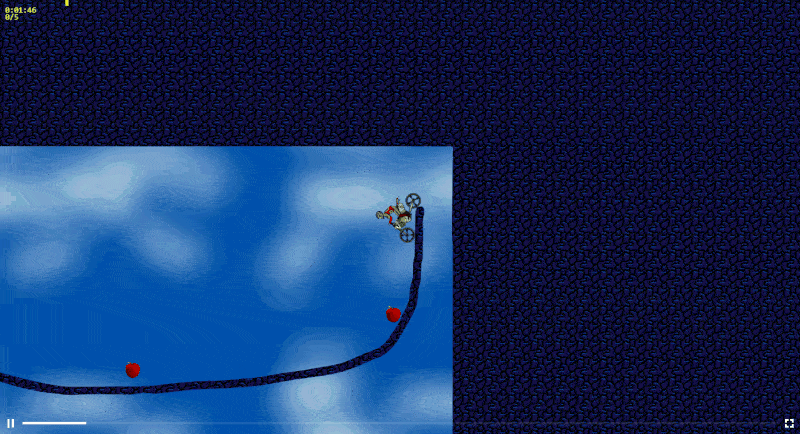 Lars Moastuen (17,277)
Øivind Jorfald (17,570)
Truls (18,003)
A big thank you to Balázs Rózsa for letting us use the game and create stickers! Stop by Elastomania.com to get the full game!
Stay tuned for part 2: Technical implementation (and source code)! Will be announced on Twitter and available on our blog. Want to help make next year's solution, join us ;)

Photo: Bjørn Tumyr