When you're a small startup it is very important to make sure you know what help is available to you to make sure you grow and evolve at the right pace.
Microsoft has lots of offers going to help spark new businesses around the world. One such is BizSpark, which basically allows your new company to use Microsoft software free of charge for up to three years. I'll write another post on BizSpark some other time. This post will be about how you can get your fledgling company enrolled as a Microsoft partner with all the benefits that come with the package.
What are the requirements?
You will find everything you need to know here. But in short you need to:
Register your company and get a partner ID
2 Microsoft Certified Professionals in your company
3 unique customer references
Completed relevant assessment test(s)
Pay the partner fee
Registering as a network member
This is really simple. Simply visit this web page and scroll to the bottom where you will find this:
Follow the steps to become member of the Microsoft Partner Network.
Get two employees to pass MCP exams
This is the most difficult part. At least it's the most time consuming. But maybe you already have what you need? Make sure you know whether some of your employees are already a MCP and have them associate with your company. You can invite them to associate here (when you're signed in that is). You need at least two certified people in your organization.
If you do not have any certified employees you have to get at least two people to do that. Microsoft has created learning paths for various competencies and you can learn more about them at the partner site.
Once you're a partner (with Silver Competency) you can get a discount of 40% when buying exam vouchers for your other employees about to become MCP.
Customer references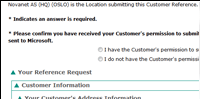 As you have probably done some work for customers already, take some time to write down what you did. You'll need some basic information on the customer, such as company name, contact information, how many works there and so on. Easy enough. Then you may want to describe the specific project. This is less than 2000 characters, so don't overthink it. A short description will suffice.
Make sure you give your customer a heads-up about a request for approval coming their way. No point in asking someone who didn't approve your work, so save time and make sure they are prepared to endorse you and your efforts.
You need three references for most competencies.
Assessments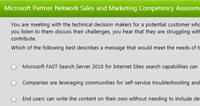 Typically you need someone in your organization to complete an assessment with a score of 75% or better. These might be about product licensing or sales and marketing. 30-40 questions (sometimes more). You get multiple chances if you fail, so don't worry.
Final step – pay your way

The final step is to pay your partner fee. Which in our case was about USD 2000. This will grant you benefits such as free software (MSDN subscriptions). These licenses are internal use only which means you can't actually use these when working on customer projects. They are good for sandboxing and getting to know the tools and other products. You will also be allowed to use the Microsoft partner logo on your web site and mail signature. You'll also get a really big banner for your office and a nice plaque stating you're a Microsoft Partner. Learn more about the software benefits.